| Civil Aviation Country Index | International Volmet Frequencies | HFDL |

Civil Aviation HF FLIGHTWATCH frequencies for Oceania:
AUS, NZ, South Pacific and South East Asia Regions
---
---
| ANTARCTICA | AUSTRALIA | NEW ZEALAND | PACIFIC ISLANDS | SOUTH ASIA |
| WORLD HF MAP |
These ITU allocation lists contain all possible frequencies for each global region.
Most regions will not utilize all frequencies listed.
You are encouraged to use the country or region links above to obtain working frequencies.
---
About HF air traffic control:

For the purposes of air traffic control there are two area-defined types of HF network:
- Major Air Route Areas (MWARA)
- Regional and Domestic Air Route Areas (RDARA)
MWARA's are based over a large geographic area and often share control among several of the countries in it's footprint - although generally not all of them.
RDARA's sub-divide MWARA's and there can be several RDARA's to a large country, or one RDARA encompassing several smaller countries.
The ITU regulates frequencies, and areas/regions for HF aviation communications (most areas do not use the full allocation of frequencies).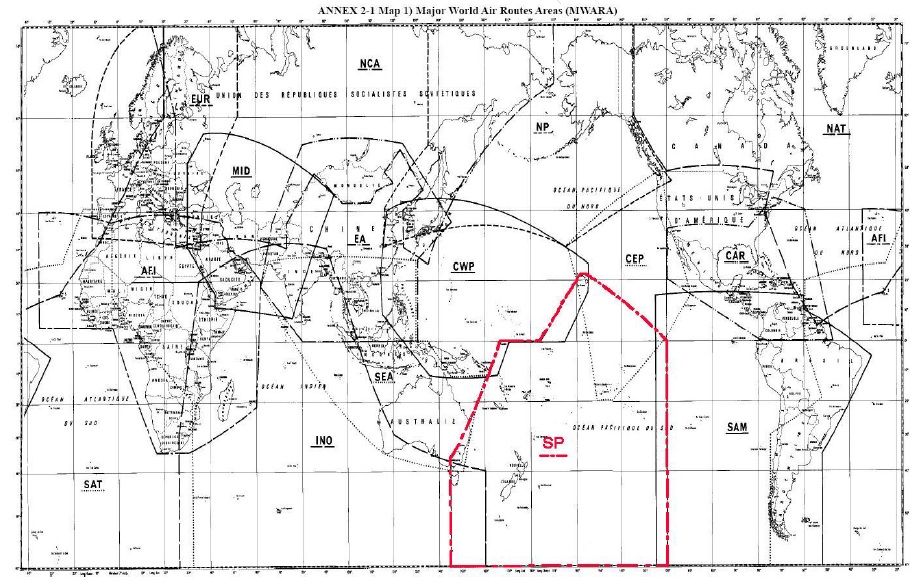 ---
MWARA Australia / New Zealand / South Pacific / Asia :
SP – 6 SOUTH PACIFIC
3467 5643 8867 13261 17904
Auckland, Brisbane, Nadi, Pascua (Easter Island), Port Vila, Rarotonga, San Francisco, Tahiti, Wallis
INO – 1 INDIAN OCEAN
3476 5634 8879 13306 17961
Antananarivo, Beira, Bombay, Brisbane, Cocos Islands, Colombo, Dar es Salaam, Harare, Jeddah, Kigali, Lilongwe, Lusaka, Madras, Mahajanga, Male, Mauritius, Moroni, Nairobi, Perth, Seychelles, St.Denis, Toamasina
SEA – 1 SOUTH EAST ASIA
3470 5670 6556 10066 13318 17907
Bali, Bangkok, Colombo, Calcutta, Dhaka, Guangzhou, Jakarta, Kathmandu, Kuala Lumpur, Kunming, Madras, Male, Singapore, Yangon
SEA – 2 SOUTH EAST ASIA
3485 5649 5655 8942 11396 13309 17907
Bali, Bangkok, Guangzhou, Hanoi, Ho Chi Minh, Hong Kong, Jakarta, Kuala Lumpur, Kota Kinabalu, Manila, Seoul, Singapore, Tokyo, Vientianne
SEA – 3 SOUTH EAST ASIA
3470 5733 6556 10066 11396 13318 17907
Bali, Brisbane, Jakarta, Male, Singapore, Ujung Pandang
---
AUSTRALIAN REGIONAL DOMESTIC AIR ROUTE AREAS (RDARA 14)
| | | | |
| --- | --- | --- | --- |
| 14A: SOUTHERN | 3461 | 6565 | 8822 |
| 14B: NORTH WEST | 3452 | 6610 | 8831 |
| 14C: NORTH EAST | 3452 | 6541 | 8843 |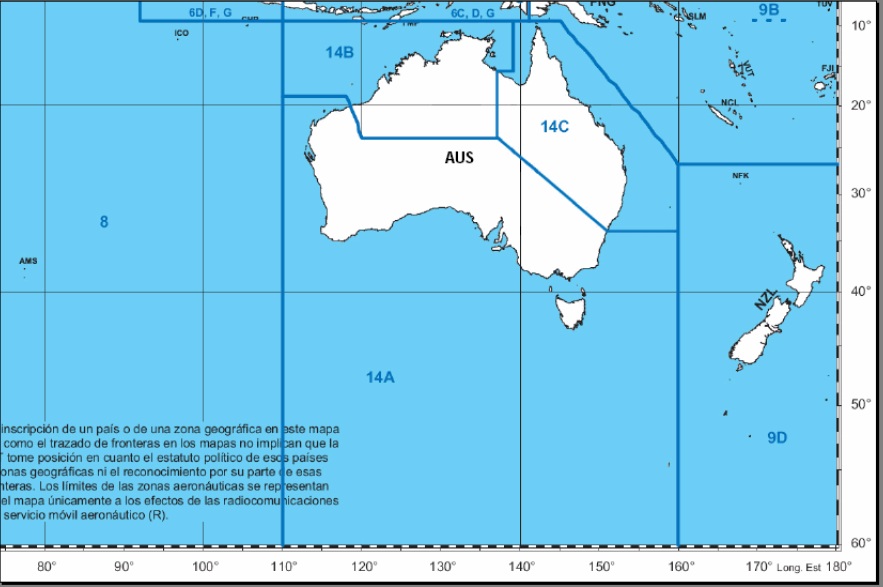 ---
FREQUENCIES FOR RADARA 9 - 9B, 9C & 9D
9
4696
5583
6553 (Rarotonga - Cook Sector)
(Niue)
8846 (Rarotonga - Cook Sector) (Niue)
8852
10018
11339 (Rarotonga - Cook Sector)
9B
2860
2905
2929*
3401*
3419
3425 (Rarotonga - Cook Sector)
3476*
4660
5484
5508
5523
5565
6538
6547
6598
6622
8819
8837
8861
8906
10009
10024
10039
11393
9C
2851
3404
3461
4675
5481
6580
8873
10042
11279
11312
9D
3016
3404
5592
6535
8873
11312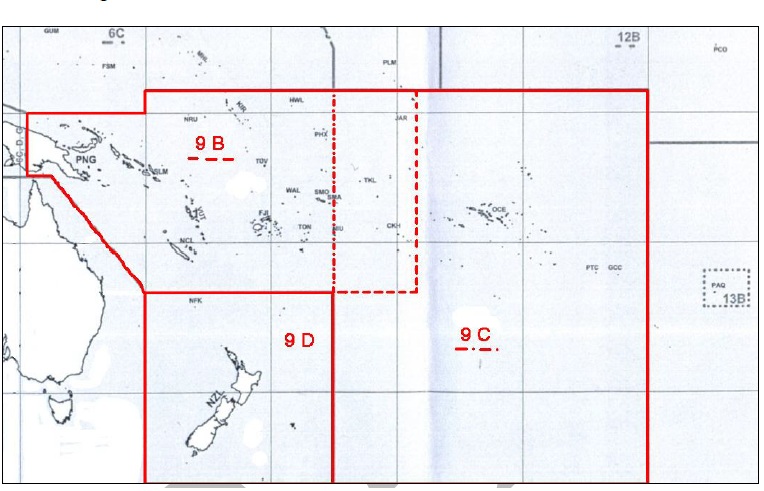 ---
FREQUENCIES FOR RDARA 6, 6A - 6G
6

8 840

11 381

13 291

17 943

6A

2 872

2 923

2 947

3 001

3 479

4 657*

4 675

5 484

5 580

5 601

6 607

6 613

6 658

8 891

8 906

8 948

10 006

10 051

10 081*

11 321

11 357

6B

2 857

2 920

3 479

3 488

5 502

5 595

5 625

6 607

6 613

6 619

8 864

8 885

10 021

10 093

11 339

11 366

17 955

6C

2 881

2 956

3 473

4 651

5 550

5 580

6 544

6 631

8 834

8 918

10 015
6D

2 866

2 884

3 416

5 490

5 520

5 568

5 574

5 631

6 550

6 568

6 577

6 595

8 882

8 957

11 309

11 372

6E

2 854

2 872

2 917

3 001

3 443

4 657*

4 675

5 514

5 526

5 550

6 583

6 655

6 661

8 861*

8 906

8 909

10 036

10 051

10 084

11 357

11 363

6F

2 926

2 941

3 434

3 440

5 496

5 508

6 526

6 667

8 864

8 939

10 060

11 279

11 366

6G

2 869*

2 875*

2 890

2 896*

2 899

2 902*

2 911*

2 917*

2 938

2 953

2 962

2 968*

2 971

2 977

2 983

2 989

2 995

3 413*

3 422*

3 431*

3 437

3 446

3 449*

3 464

3 482

4 651*

4 663*

4 669*

4 672*

4 690*

4 696*

5 481

5 487

5 493*

5 499*

5 505*

5 511*

5 517*

5 523

5 547

5 553

5 559

5 565

5 571

5 577

5 583

5 592

5 598

5 604

5 610

5 616

5 622

5 628*

5 634*

5 640*

6 529

6 535

6 541

6 547

6 553

6 559

6 565

6 574

6 580

6 586

6 598

6 604

6 610

6 616

6 622

6 628

6 634

6 649

6 652

6 673

6 682

8 816

8 825

8 831

8 843

8 858

8 867

8 870*

8 873

8 888*

8 912*

8 960

10 018*

10 054*

10 063*

11 276*

11 282*

11 288

11 294*

11 300*

11 306

11 315

11 369

13 270

13 276

17 913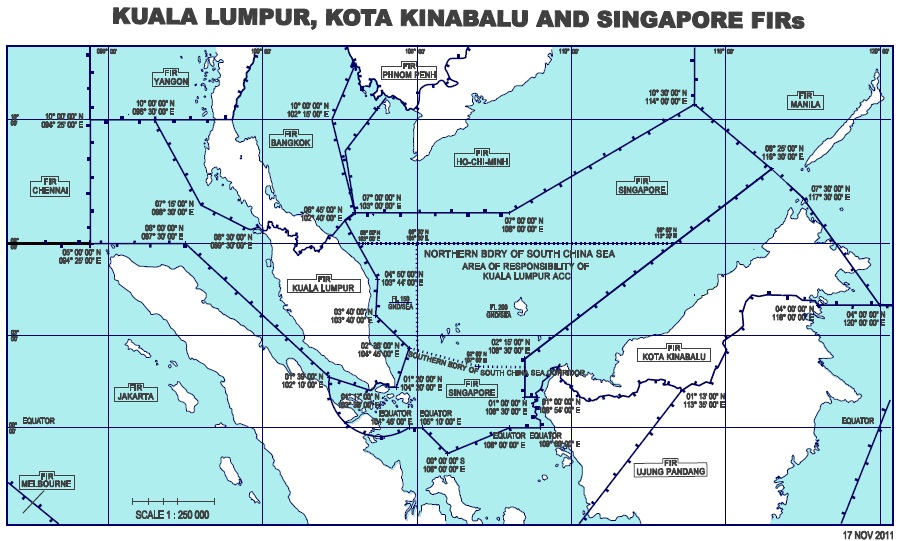 Information provided by AIP Australia, AIP New Zealand, AIP Malaysia, AIP Indonesia, AIP Vanuatu, AIP East Timor, ISPACG, ITU and is correct as of 5 March 2013